» Nook ebook reader: an interesting mix of display technologies
Nook ebook reader: an interesting mix of display technologies
---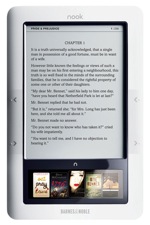 The Nook ebook reader sounds quite compelling compared to the other ebook readers such as the Kindle or Sony Readers: it has a black and white e-Ink display to comfortably show book pages like all other readers, but it also has a small LCD touch screen at the bottom where all the action happens.
And this second screen makes all the difference: e-Ink screens are perfect for reading and use very little power, but they're definitely not suited for user interaction since they require to "wipe" the screen before changing what's displayed.
The Kindle has a keyboard that takes a lot of room for something that's accessory to the main device's feature, and some Sony Readers have a resistive touch layer on top of the e-Ink surface that reduces its clarity, and probably don't allow smooth interaction (I haven't tried it though).
The Nook looks like a great compromise: e-Ink display to read, and a speedy colorful capacitive touch screen for browsing, searching, etc. As an additional bonus, it's also powered by Android. Not sure you'll ever find the Android Market on this very specialized device, but this could open the door to additional applications being available to enhance your reading device.
Reading books on a computer display is a strain for the eyes, and I'm always reluctant to print lots of pages. The Nook could be the device I was waiting for. Now will it ever be available in France since it's a Barnes & Nobles thing?