---
My first son is 18 today, which in France means he is officially an adult. At 24 I was rather young when he was born, but still, today is a milestone. Another important milestone was last september, when he left the home to study in Montpellier, only coming back home on week-ends with a bag of dirty laundry :-)
Kids grow fast and times flies. Quite common statements, but why are they so common? I guess it's because our lives are packed with too many activities, and there are even more that we don't have time for. So in a way this is because our lives are not boring.
Anyway, enough old fart's rants. Happy birthday Corentin!
The Toulouse Java User Group was recently created, and I will give a talk about J2ME development at its first meeting. There will also be a talk on GWT, and plenty of time for informal discussions around the buffet.
So if you happen to be around on May 12th, you're more than welcome to join the party!
I borrowed part of this post's title from an interesting article at The Register. Basically, the article says Oracle now owning MySQL won't change anything, since MySQL is already dying because of the slow pace at which new features are released, and that forks are already in the works to take over (see Drizzle and OurDelta). This fork-and-continue-elsewhere model has already been seen several times when an open source company goes against open development (i.e. community diversity). Now a database is probably something different.
At Goojet we rely heavily on MySQL, as it stores all of our data. The reasons that led us to choose MySQL are quite common among internet (in our case mobile internet) startups: it's free, which is important when you plan to scale out and don't want to spend all your money in costly per-CPU license fees, and it has rather well-known solutions for replication and load balancing, even if these have some shortcomings.
I hear you, die hard bleeding-edge'rs: I've used Hadoop in the past, but it's not (yet) good as a front-end database, and I'm not sure alternative databases such as CouchDB are ready for production, at least for storing the very business-critical data that is our user base. And not everything can be stored in a distributed key-value store. So we stick to MySQL, at least for now.

Continue reading »
Google has silently released a personal profile service, whose purpose is to "give you greater control over what people find when they search for your name". Everybody has searched for their name once to see how well (or badly) they were "findable", and Google promises to give your name a higher ranking if you fill your profile page.
Now this narcissistic feature based on Google's big gun, their search engine that everybody uses, is actually a smart stealth move towards a social network that doesn't say its name. Your profile can contain information that you only want to disclose to your GMail contacts which are now named "friends". No need to recreate a social graph, it already exists in your mail account. And if you have an Android phone, Google knows your close relatives since your phone's address book is sync'ed with your GMail contacts. You can even grant special permissions to the phone contacts marked as "favorite".
This profile page is not – yet – a threat to Facebook, since it only shows things about you, and not about your friends. But how long before Google adds OpenSocial gadgets to the profile page and merges it with iGoogle? And how long before Google aggregates news from the various URLs about you it invites you to publish (blog, photos, twitter, etc) and kills FriendFeed?

Continue reading »
At Goojet we are developping applications for the mainstream mobile platforms, currently J2ME, iPhone, Android and BlackBerry, and Symbian in a near future. These applications are essentially enhanced web mobile browsers, supporting the mobile widgets and social features brought by our platform.
Our J2ME application is the most complex because this environement is very low level, and we're currently looking for a talented and experienced J2ME developer to grow our mobile development team.
The job includes writing efficient graphic rendering of HTML content (there's no WebKit on J2ME as we have on other platforms) and usage of optional J2ME APIs such as camera, location and video while ensuring the portability on the wide range of phones we support.
Being able to work in our offices in Toulouse would be a big plus.
Update: we hired a developer, so please do not apply anymore!
I have two very old Macintosh computers in my basement: a Mac SE bought in 1987 and a PowerMac 7200 bought in 1995. I also have hundreds of floppy disks for these computers, with all sorts of games and utilities, including the very first versions of Word and Excel!
These computers are still functionning, but what can you do with these except powering them once in a while to show kids how slow and limited they were compared to today's computers? Also, most probably many of the floppies have lost their data.
So what should I do? Trash them? They represent so many memories and so much time spent staring at their screens. That's a difficult decision, but they are taking to much space! My old Apple IIe, bought in 1984, is still alive, but is still at my parent's house. They ofen tell me to take it back, so asking them to host my old Macs seems out of question :-)
I think that at some point you have to consider that time has passed, and bury those old things that you once loved. Note that I had absolutely no problem trashing my old PCs!!!
When I started blogging in November 2002, there weren't many free blogging tools available. The major one was Movable Type, which I first installed on the company server before moving it to my own domain.
Alas, Movable Type is written in Perl, which I find hard to read and never took the time (nor found the motivation) to learn. That means my blog engine was merely a black box to me, and I've been regularly thinking to switch to something else I could really understand and fix and hack when I felt the need to. At some point, being a developer at heart, I even considered to write my own thing, but lacked the free time to do something that would be good enough.

Continue reading »
Update: I had some feedback that I should have separated the positive congrats to Benjamin from the criticism about the process. Apologies if he or others felt offended, this definitely wasn't my intention, and again Benjamin has some merit that should make him a committer more than a contributor award winner.

My former colleague Benjamin Cabé has been nominated Top Eclipse contributor for 2009. Congrats!

Continue reading »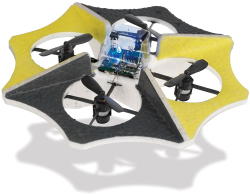 Yesterday was my youngest son's 13th birthday, and he had a remote-controlled flying saucer we ordered at ThinkGeek. My son loves geeky gadgets and can spend hours on their website!
This little toy is actually a pretty cool piece of technology: it embeds 3 gyroscopic sensors to stabilize the flight by regulating the four propeller's rotation speed. Give it a few seconds to calibrate after switching it on, and here we go, flying around in the living room! The only one who doesn't love this toy is the cat, particularly when it suddently takes off close to him :-P
Tomorrow I will have surgery to remove varicose veins from my legs. It's a planned minor surgery, that I know I will have to go through for more than a year. This is a family problem, as my two parents and my younger sister needed to have it as well.
One leg will be operated on tomorrow, and the second one on Thursday. I'll be back home in the evening after every operation, but will have to stay at home for a week, and can't fly nor do sports for at least a month. So unfortunately this means no ApacheCon in Amsterdam this year.
Update: both legs done and going well, I now have to stay at home for a week.