---
Stefano
is quickly getting up to speed in his new job at the MIT, and explains us
why and how RDF can be used
.
A very interesting read. Others like that one will certainly help more people to understand the benefits of the semantic web stuff.
Keep writing, Stefano!
Read this
great introduction
by
Matthew
on Mobitopia explaining why
Cocoon
rocks to build mobile (and more generally multi-channel) server applications.
And remember also that
Orixo
is heavily involved in these projects.
Error messages are like easter eggs. Not easily visible, but often funny. Here's what Orkut told me this evening when I tried to login.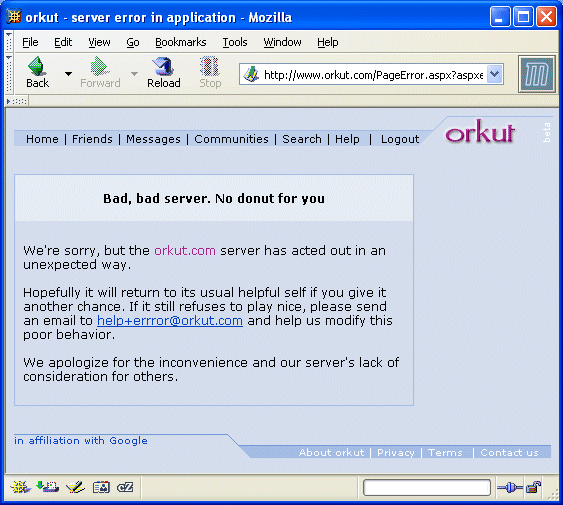 In a few hours, I'll be leaving for a 2-days advanced Cocoon training in
Mayenne
, in the west part of France, where I will teach Woody & Flowscript to 10 people.
This is the third training session I do for this customer, which makes around 30 people trained in a single company since one year!
I'll be mostly offline until friday afternoon.
Like many others, I was intived (by
Ovidiu
) to join the new social networking service mentioned everywhere in the blogosphere,
Orkut
.
I registered, started linking to close friends I found there, added myself to some groups, etc. Ah, when registering, I carefully omitted to answer some very personal questions this site gently invites you to answer to, wheareas its
terms of service
state it can "
disclose your personal information and the contents of your account if required to do so by law
". Which law? US law? Naah, I don't want them to know my sexual orientation, religion or political opinion, even if there's nothing special to be found there.

Continue reading »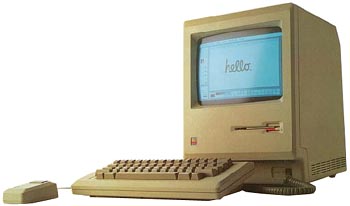 Yesterday was Macintosh's 20th birthday.
I remember when I it was announced. This is one of the very few events in the computer history that are engraved into my memory. I was in high school at that time, and had bought my Apple //e a few weeks before, for Christmas.
I discovered the amazing Mac with the well-known "hello" screen in the front page of a computer magazine named "hebdogiciel" (literally "weekly-ware"), full of program listings for computers and programmable calculators that existed at that time (yes you had to spend hours typing them by hand).

Continue reading »
The news leaked through
a comment
in Torsten's blog (Andrew
noticed it
): I ordered a Mac yesterday. A nice
15" PowerBook
. Finally.
For me, it will be a switch back to those computers I've been loving for so many years (1987!). The important change is that I will be using it all day long instead of just at home, thanks to MacOS X and its strong Java support.
I don't yet know when the baby will arrive, but be assured I will post regularly about it :-)
Stefano
finally went through the bureaucratic hassles and
goes to the MIT
to work on the semantic web.
Considering this has been one of its pet subjects for a long time, we can expect very nice things coming out of this now that he will be paid to work on it.
Congratulations, Stefano!