---
Hooray, I have DSL at home again!

I wanted to change my ISP from one who charged 45€/month for a 512kbps connection to a new player in the french DSL market which offers the same speed for 25€/month.

But the new ISP is victim of its success, and setting up the connection was not quick, to say the least. During more than 3 weeks, I had to use a sloooow dial-up modem...

Yesterday, I received my new account credentials. Woohoo, permanent connection and Wifi again!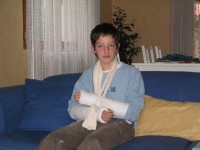 Yesterday, my oldest kid (Corentin, 12) went to the ice rink with his friends. And what happens when you go skating only a few times a year? You fall on your ass. And you instinctinvely use your arms to avoid hurting your ass. So you hurt the arms. This is what happened yesterday: a fracture on each arm! A compression of the end of the radius, which is not a serious injury, but requires the arms to be put in plaster for 3 weeks. He looks like Robocop!

Continue reading »
Apple has released iTunes on Windows. And iTunes uses the Safari browser internally.

Will we have soon Safari available on Windows? The browser war is just starting...

PS: yeah, I know, some people will comment that I should buy a real computer, with Safari built in ;-)

The second Cocoon Get Together is over. Two great days, meeting again cocooners I already knew and meeting new ones. The most noticeable new face I was given to know is Vadim Gritsenko, that nobody ever met before. He's a very smart and kind guy.

It was hard to say goodbye yesterday evening, and so the night was short. Thanks to everyone that came to Gent and see you next year, and hopefully before.


Morning presentations are over. Read the full report written concurrently by many hands on the Cocoon wiki.

It started by a really visual presentation by Stefano. No text on the slides: only diagrams and pictures. Stefano digged into his picture gallery and found images that perfectly illustrated the concepts he wanted to explain. Hopefully the slides will be donwloadable somewhere and you'll be able to enjoy it.

Next came Christian Haul that explained all the various ways in Cocoon you can use to connect to a database. I wasn't really listening because I was reviewing my presentation.

Continue reading »
It started by a discussion about Cocoon's documentation: how can we build something that combines the ease of use of a Wiki and yet provide the required structure to build the Cocoon documentation?
Then Stefano explained us about his current thoughts about e-learning: documents (or, as he says, "learning objects") should not be organized in a single restrictive hierarchy, but be linked through trails so that a reader can reach a document through several paths.
This comes for the "cognitive dissonance" that says that something is written in your long-term memory once you reach it through different paths. I guess that's because the brains works by associating ideas. So the more associations you have on a particular topic, the more easy it is to go back to this information.
And then we came to the semantic web, RDF, and even tracking scrolling gestures to know which parts of a page were difficult to understand.

Continue reading »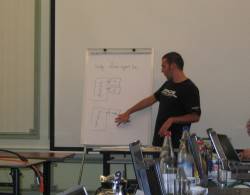 The Cocoon Get Together is just starting. You'll be able to follow this great event nearly in real time through the Cocooner's weblogs (see my blogroll).
Today is the hackaton, and Stefano is explaining us blocks, the next big thing in Cocoon.
I a few hours, I will leave for a 3 days trip to Gent, for the second
Cocoon Get Together
.
The program for
monday's hackaton
is really yummy, and about 130 attendees registered for
tuesday's conferences
.
I'll be giving a
presentation
on FlowScript and Woody, which are in two major features in Cocoon for building real webapps. And they make it so easy...
Stay tuned on the various Cocooner's weblogs for live reports about this great event!
The second edition of the
Cocoon GetTogether
will be held on 7th of October in Gent (as last year).
Lots of
interesting talks
are planned that will show the wide range of problems that Cocoon easily solves.
Registration
is open. Hurry up !
I'll be offline next week. Laptops don't like camping nor sea sand.
The perspective of being offline makes me realize how much I'm addicted to my Internet connection, and especially to the Cocoon community. One week without the friendly buzz of
cocoon-dev
...
But I'm not the only one to be addicted: this evening, my youngest kid told my wife "What? No TV for one week?". And I know the oldest one already misses his video games.
So this will be a real break. For the whole family! And this is good.
At least I tried to persuade myself ;-D