---
Ovidiu
tells us
about
Cocoon
flow controller implemented in Java. Wow, this is something I've been dreaming of for a long time, and had some deep thoughts about just yesterday while digging the soil in my garden (yes, physical work frees the brain, and this is often at that time that I have very deep technical thoughts...)
Although JavaScript allows rapid prototyping, I miss many of Java's features when writing flow scripts, such as strong typing and all the Eclipse features (code completion, javadoc tooltips, etc).
Yesterday's thoughts ended with the following action items to have flow written in Java :

Continue reading »
Bertrand
discovers LogFactor5
, the swing GUI for log messages. A nice feature
Marcus
and I added to Cocoon several months ago, that obviously deserves some more marketing !
Another important Bertrand-related news :
Chips has 6 puppies
! Congrats to the happy (or tired ?) mother, and welcome to Rizzo, Rudi, Belle, Bulle, Franky and Georgie (phew, so much names to find).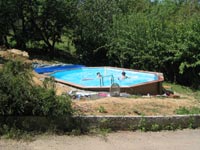 Today was the grand opening of our swimming pool. I call it "milestone 1" (reference to Cocoon is not a coincidence ;-) since it's functionnal, but not finished. As you can see on the picture, there's still a lot to do around it. Nevertheless, kids like it. And parents also, of course !
Nicola Ken
says that
we, hackers, are in fact addicts living in a tribe.
He's right. Addiction comes because you're working (can we still call this "work" ?) with people that "share some neurons" with you, as
Steven
likes to say, on stuff that you have chosen to work on, that you like, and that allows you to learn and learn and learn again, both from code and from people.
And you often feel you're intellectually more familiar with the "tribe", composed of people that you never or
rarely meet
for real, than with the colleagues that are just near you.

Continue reading »
For 4 years now, at the end of April, a
nightingale
comes back in the group of trees (a 500 m
2
forest) near my house after having spent the winter in Africa.
Nightingales are small birds that sing like no others : nice, loud and sophisticated songs. But the problem is that they sing the
whole night long
until youngs are hatched out. And that one lives
in front of my bedroom's window
:-(
Although "
Rossignol
", the french name of this bird, has no particular immediate meaning, the english name perfectly reflects this bird's bad habits :
dictionary.com
explains that "
gale
" means "to sing". So "
nightingale
" literally means "
sings at night
". How well chosen... unfortunately.

Continue reading »
I'll be on vacation this week. No travel plans, I stay at home. But I won't be unoccupied : I'm finishing building my swimming pool ! I started to fill it with water today, and kids are now asking "daddy, when can we go in ?". Wait, wait, kids : first we have to put in a huge amount of water, and then start all the sterilization stuff. Next week should be ok !
Want some photos ? Well, I thought of it, but an unfinished swimming-pool in a destroyed garden aren't that nice. But if you want some, ask for it !
Ah, and Carsten will release tomorrow the first milestone of Cocoon 2.1. I like the "milestone" word which has a looser contract than "alpha" or "beta".
The great
Stefano
starts
blogging
. And, it's no surprise, he wrote his own blogging tool with Cocoon (you can
download
it).
Linotype (that's its name) uses Cocoon's flow engine. This engine is drastically changing my way of building webapps, since it makes previously complicated things so simple. My feeling is that once you've tried it, there's no turning back. So try it, try it quick !
As
Stefano says
, it's amazing what can be done with a few lines of glue code. But this glue-code has features like continuations (freeze the program state, waiting for user input) and the whole power of Cocoon components. I don't know of any equivalent to this. And I love it.

Continue reading »
XMLForm is a solution provided by Cocoon to handle forms. It's composed of two parts : an Action, which is supposed mimic Struts, and a Transformer, which handles population of form data from the data model using an XForms-like syntax.
I always found the XMLForm action to be too heavy (requires a lot of Java coding) and poorly designed compared to other Cocoon components. The Transformer, however, does its job well, even if its code is... ehrm... messy.

Continue reading »
Yesterday,
Stefano
resigned
from being the
Cocoon
PMC chairman. Wow, strange times when the creator no more wants to drive his baby. Anyway, he explained his reasons, and we can understand them : Stefano wants to keep his freedom to be the one that touches where it hurts, for the greatest benefit of the project.
So what's next ? Choosing a new PMC chair, of course.
Steven
quickly
proposed himself
, and I think he's the right person.

Continue reading »